Learn about the fundamentals of capacitors in this extensive ebook.
A fifteen-part ebook compiled by top engineers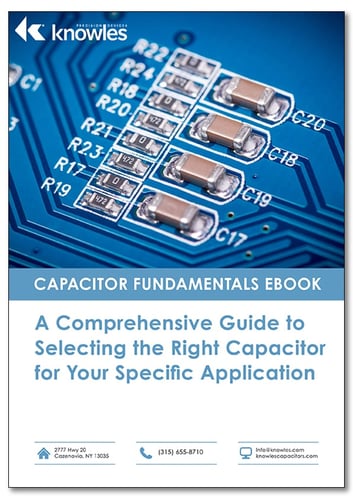 At Knowles Precision Devices, our expertise in capacitor technology helps developers working on some of the world's most demanding applications across the medical device, military and aerospace, telecommunications, and automotive industries. Thus, we brought together our top engineers to compile their extensive knowledge into a comprehensive capacitor fundamentals ebook. This ebook will cover the ins and outs of capacitors, including their properties, product classifications, test standards, and use cases, with the goal of helping you make informed decisions when selecting your capacitor technology.

Download this Ebook to learn:
The Key Principles of Capacitance and How a Basic Capacitor Works
How Capacitors are Most Frequently Used in Electronic Circuits
Factors Affecting Capacitance
Defining Dielectric Polarization
Dielectric Properties
Characteristics of Ferroelectric Ceramics
Characteristics of Linear Dielectrics
Dielectric Classification
Test Parameters and Electrical Properties
Industry Test Standards Overview
High Reliability Testing
Visual Standards For Chip Capacitors
Chip Attachment and Termination Guidelines
Dissipation Factor and Capacitive Reactance
Selecting the Right Capacitor for Your Specific Application Needs
Download The Ebook