On-Demand Webinar
RF Components in Emerging SATCOM Applications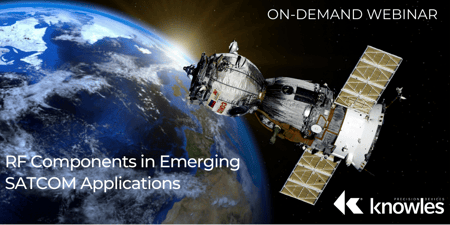 In recent years, the focus for satellite communication (SATCOM) applications has shifted from coverage to capacity, bring about a variety of new design challenges impacting SATCOM design engineers. As a result, SATCOM devices are being pushed to operate at higher bandwidths in the Ka and V bands. At the same time, these devices need to become increasingly smaller, which means smallsats, or satellites weighing less than 500 kg, are quickly gaining momentum, making size, weight, and power (SWaP) critical design considerations as well.
In this on-demand webinar, we dive into these items more as we discuss the trends driving the adoption of smallsats as well as the resulting RF challenges around designing smallsats including the following:
Shifting from using a traditional heterodyne architecture to a direct RF sampling approach to reduce SWaP

Factors influencing RF filter selection to avoid interference in tighter spaces as systems inherently need to be more compact to accommodate for shorter wavelengths as operating frequencies increase

Moving away from static mechanically steered parabolic antennas to designing active phased array antennas

.
Fill out the form below to access the webinar recording.
Access the Recording