Learn About Microstrip Filter Choices
Our Microstrip Filters address mmWave filtering challenges .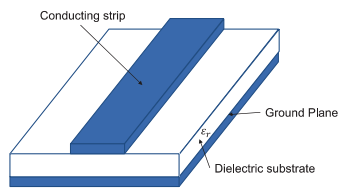 In RF systems the behavior of Transmission Lines are important to understand when the transmitted frequency's wavelength is short enough that the length of the cable becomes a significant part of a wavelength. Microstrip refers to a type of planar transmission line technology that consists of a conducting strip separated from a ground plane by a dielectric substrate. Entire devices (antennas, couplers, filters and power dividers, for example) are formed from metallized patterns on the substrate, making Microstrip lighter, more compact and more affordable than alternative transmission line technologies such as waveguide.
Microstrip was invented in 1952. Since then technology advancements in both the manufacturing of dielectric material for the substrate and thin film processing techniques for creating the components has led to its adoption in a wide range of applications. This article is intended as a short introduction to some of the standard approaches to manufacturing Bandpass
Filters with Microstrip Technology.
Download this White Paper to learn:
Microstrip Building Blocks
Common Filter Topologies that utilize Half Wavelength, Open Circuit Lines
Common Filter Topologies that utilize Quarter Wavelength, Closed Circuit Lines
To learn more about 5G, mmWave and the role Knowles Precision Devices DLI Brand Filters play visit our 5G Solutions page
Download The White Paper